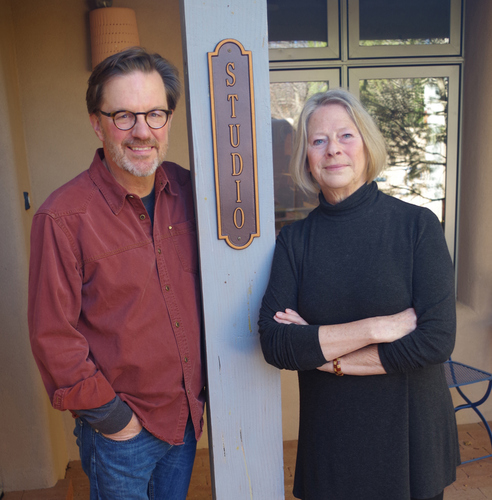 Weavers Linda Running Bentley and Kipp Bentley produce one-of-a-kind wool rugs from their studio in the high desert southeast of Santa Fe. Using the traditional rag-rug technique common to their Midwestern roots, they weave on stand-up Rio Grande walking looms native to the Southwest, carrying on familiar craft traditions, but with a style distinctly their own.
A key feature of Estambre Studios' rugs is their use of wool blanket selvages from the Pendleton Woolen Mills in eastern Oregon. During the finishing process on Pendleton's large blanket looms, the blanket edges are trimmed and removed and a hem is applied. Linda and Kipp then blend and weave these blanket trimmings – or selvages
– into their distinctive Estambre Studios' rugs.

Thanks to the high quality Pendleton wool, and a weaving technique that densely compacts each weft row on the studios' looms, the resulting rugs are not only beautiful but are durable and will withstand many years of use. And since cotton warp is used in each rug's construction, the rugs can be placed in a washing machine when needed, and then hung out to air-dry.

For those familiar with Pendleton's blankets – which originated over 100 years ago as Native American trade blankets with many of the same designs and colors still used today – the rich shades of Estambre Studios' rugs convey the vivid history of the Southwest. Though some buyers use them for wall hangings, these soft rugs are perfect for adding a warm covering to hard surface floors, and are woven in sizes suitable for bedsides, bathrooms, kitchens and entry areas.